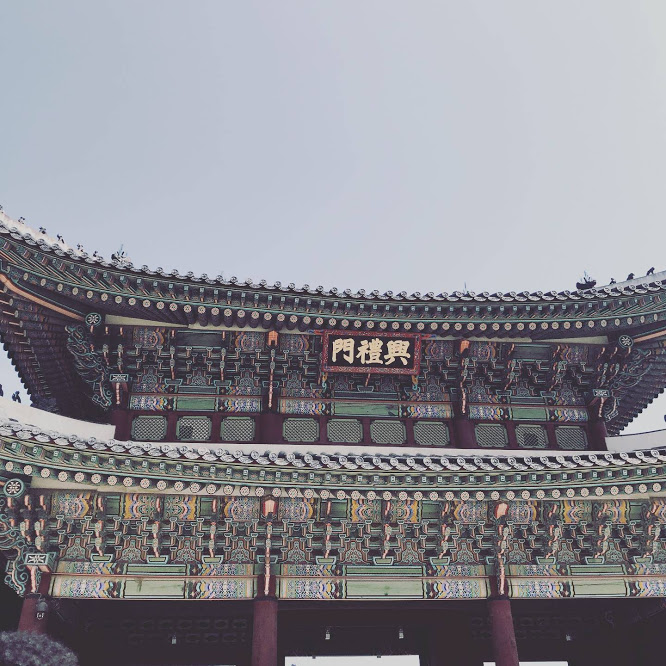 My husband and I had a chance to spend a weekend in Seoul before our 10 days in Japan (more on that later!). Thankfully, we had a wonderful guide as an old friend currently lives there — which made getting around and communicating so much easier!
Seoul is a MASSIVE city so definitely plan well if you'll only be stopping through for a weekend. You definitely won't see everything but, hey, it's a great excuse to come back! Here were some highlights of things to do if you're in Seoul for a weekend and my recommendation for how to split it up between two days.
Day 1: Gyeongbokgung Royal Palace (the royal palace of Joseon Dynasty), Cheonggyecheon Stream (a quiet walking area along a stream), Gwangjang Traditional Market (the coolest food market full of locals!), Insadong Shopping Street (artsier little shops and vendors), Myeongdong Shopping Street (this is where to get your shopping done and stock up on all your Korean skincare products). You'll find places to eat everywhere in these areas.
Day 2: Morning hike in Bukhansan National Park, afternoon in Hongdae area, dinner in Gangnam.
If we had more time, I would've loved to spend more time in Hongdae and check out a Korean spa!
Some tips:
– Seoul is HUGE. And getting from one place to another will take more time than you think (even with the subway). Spend your time accordingly and group activities/sites in a certain area together.
– Google Maps does not work well in South Korea, especially for walking directions. We used KakaoMap and were able to navigate pretty well.
– Google Translate also doesn't do well with Korean so get used to doing a lot of guessing and pointing. Also, learn a few phrases like "hello" and "thank you." It makes a big difference.
– We had no problem using our credit card everywhere (whereas Japan has a bit more cash only joints).
– I had great cell phone service with my Sprint phone in Korea.
– Trash wise: it's really hard not to find things not wrapped in plastic. Or recycle bins out in public. The best we could do was save any trash in our backpack and dispose of them at the hotel.
– Eat all the food. It's magnificent. Note that "breakfast" isn't as much of a thing. So pop into one of the million 24/7 convenience stores and stock up on coffee, tea, yogurts, and snacks!